god loves a terrier
even though i was hungover to death i had to wake up early on saturday and go to the dog show. the fucking dog show! CUTE OVERLOAD. i bet if i went to enough dog shows i could turn into one of those cute obsessed people that have pictures of kittens on their checkbooks or something like even though i could give a shit about a teddy bear i was practically having strokes over these people walking around carrying pomeranians. OH MY GOD THAT DOG LOOKS LIKE A FUCKING TEDDY BEAR MY HEART IS GOING TO EXPLODE!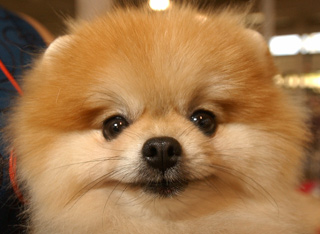 also at the dog show i went insane. i was tired and rachel was tired and et was tired and we made vodka and mcdonalds lemondade. WHO THE FUCK BRINGS HER FLASK TO THE DOG SHOW. me. then i fell asleep in a chair and i had to drink coffee. coffee makes me go insane and yell things really loudly like OH MY GOD THAT LADY LOOKS LIKE JOAN RIVERS. you know what is not cute? dog show judges and handlers. all the judges are five hundred years old and are wearing silver shoes and dresses with sequins and shit on them. if i knew a dog show judge i would totally get her a bedazzler for christmas and she would FUCKING LOVE IT.
also it is a rule that the handlers have to dress like menonites on crack. someone should tell this lady that even the ugliest coat in the universe is not distracting me from her white socks.
you know how sometimes life is kind of like a movie but not as awesome and hilarious well going to a dog show is just like a movie. BEST IN SHOW BUT TEN TIMES MORE HILARIOUS SO YOU CAN'T EVEN BELIEVE IT.
i'm going to get tons of hits from people googling 'menonites on crack' now.
|