look what i made you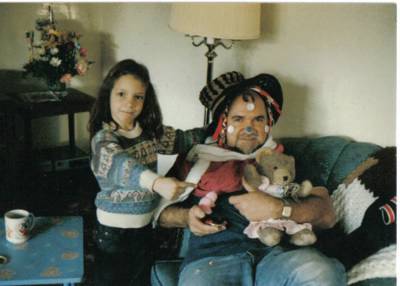 i thought you wrote the bible. when i was little, and you told me the story of the tower of babbel.
and moby dick.
and erin gaijin.
you told me santa was a snake that sssslithered down the chimney.
when i used to play in the darkroom, and make oil paintings.
and read art history books and design buildings. i wanted to be an architect who painted murals. why are houses so boring, why aren't there any pretty pictures on them?
and go to the art institute and sit in front of chagall's america windows and draw, and go to the field museum and look at fossils and armor and jade.
when did i lose it?
i don't want to make fun of you when you bring a pumpkin pie to thanksgiving with a slice missing because you woke up in the morning and thought you were going to die.
i want you to live forever.
i want to take you to china and learn about ancient history. i don't want to tell you i don't care about the past.
i don't want to be jaded.
i'll never do what you've done, i'll never be what you are. i can determine the area between two curves, so what?
when did you get old? when did you get sick? i'm sorry i grew up, i didn't want to.
tell me a story uncle scott.
|